We believe every animal deserves to feel at peace, loved and safe regardless of their physical or behavioral challenges. Unmistaken Stars Farm Sanctuary was born to create a place where animals could live out their days in a pastoral environment experiencing the unconditional love and acceptance they so freely give.
Rose is our most recent arrival. She is a 7-year old Gypsy Vanner who joined the farm to be a partner with us in teaching therapeutic riding to adults with disabilities. We have had to adhere to a strict weight limit because of the size and age of our horses. Rose's strong and sturdy stature allows her to support a rider with ease and her gentle, calm demeanor is a blessing to all she meets. Rose's favorite activity is eating, and her favorite part of the day is breakfast, lunch and dinner!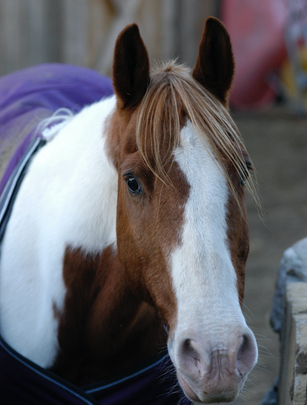 Hanson
Hanson joined us last fall after being rescued from a horse auction suffering from extreme starvation. Nothing of his past life is known but we do know is that his future with us is bright. With a careful re-feeding program, Hanson has gained several hundred pounds since being saved.  He arrived very guarded and defensive; his emaciated body covered with countless wounds told a tale of much suffering.  But slowly Hanson is letting his guard down as he learns that he is safe here at the sanctuary. Hanson is showing himself to be a very playful fellow; he spends hours each day play fighting with his herd mates bringing out the youthfulness even in Mystic who is himself approaching 29 years old!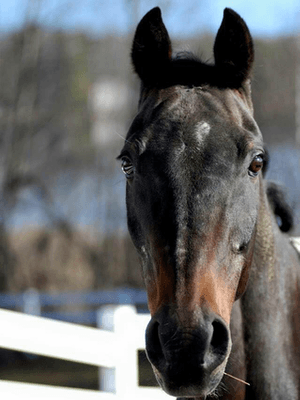 Mystic
Our longest equine resident, Mystic, is a 27 year old Standardbred born into the racing industry. Abandoned by his trainer when he was young, Mystic calls the sanctuary home where he most enjoys a quiet sunny afternoon sunbathing under the apple tree. Mystic is also known as "Mr. Dunk and Bubbles" as he loves to dunk his hay and grain in his water bucket, and don't think of soaking it for him as he's an independent boy and wants to do it himself!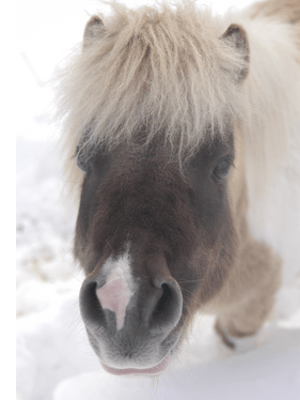 Gabriel
Gabriel, Gabby for short!, is Mystic's best friend. Gabby is a miniature horse who joined the sanctuary in 2003 after we found him shut in a nailed plywood box on his way to slaughter. He had come down on a truck with a herd of sheep, and based on his response when he first met the other horses, we don't think he had any idea he was a horse! Gabriel has the heart of an angel; he loves everyone and every thing, and especially loves to eat! Gabriel has served in our therapeutic horsemanship program.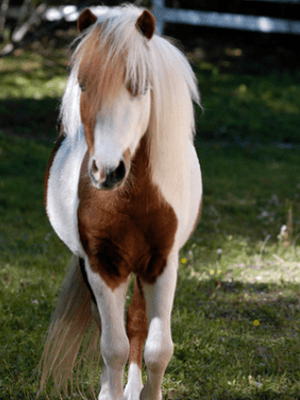 Brady
Brady came to us as "bad boy Brady" as he was extremely difficult to handle. Rearing, striking, biting, and otherwise bullying anyone who attempted to handle him, Brady had earned the reputation that preceded him. Unbeknownst to his former owner, he was a cryptorchid stallion underlying the dangerous behaviors he was displaying. Following his gelding surgery, Brady responded well to natural horsemanship and has served in our therapeutic horsemanship program. He most enjoys being pampered by anyone who calls him "beautiful Brady blue eyes."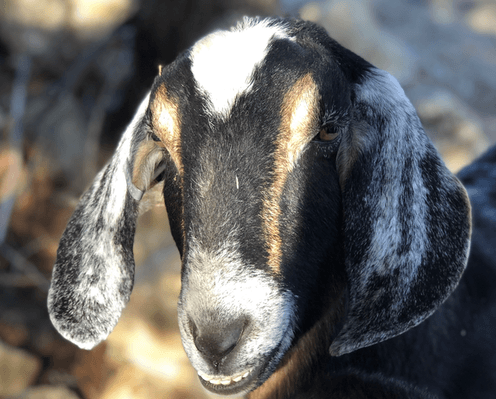 Bliss
Bliss is an elderly gal who lost her life long Nubian companion, and her home this past fall. She has quite a hitch in her step from a front leg deformity that is believed to have resulted from being stepped on by a horse when she was young, and she's sporting four club feet that we will be slowly working to reshape in hopes of providing her more comfort as she ambles about. Don't let her challenges fool you! She has no problem keeping up with the spritely OAT's (Ophelia, Alfalfa and Timothy) and has already established herself as their Mother Hen! We are looking forward to getting to know Bliss, and watching her make her home here at our sanctuary.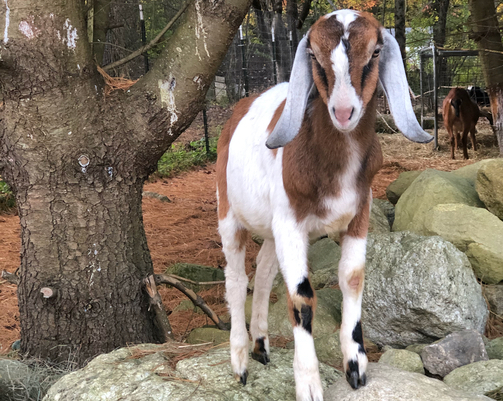 Elijah
Sweet Elijah is our most recent addition to our goat herd.  Born a male into the dairy goat industry, he was considered a by-product of the milk production business; most males are raised up for meat.  But Elijah was destined for a better life!  He has joyfully integrated into our herd of rescued Nubians and has developed a very special bond with Bliss; he can usually be found following her everywhere she goes and copying everything she does!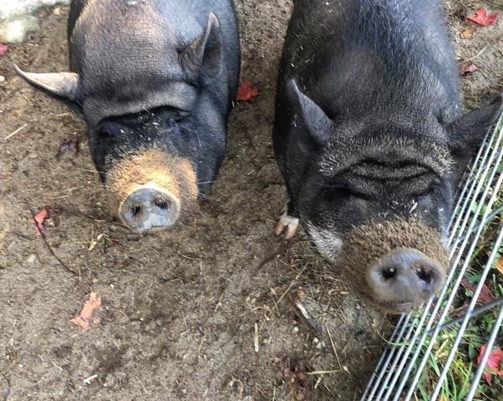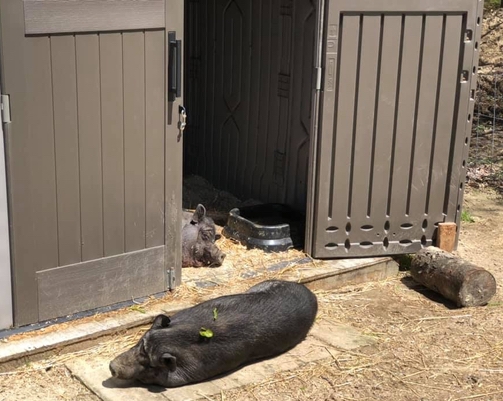 Annabella & Rosie
Sisters in spirit, Annabella and Rosie, are two of the sweetest potbellied pigs we have ever been blessed to care for at the sanctuary.  They came to us by way of Craigslist where they were each advertised for the purposes of a cookout.  We became aware of their situation only one day after Annie had passed away and while our hearts were grieving, we knew we couldn't let these kind souls die a gruesome death.  Meeting Annabella and Rosie is like meeting two girlfriends you have known all your life; they are so friendly, inquisitive, gentle and trusting!  They love visitors almost as much as they love snacks!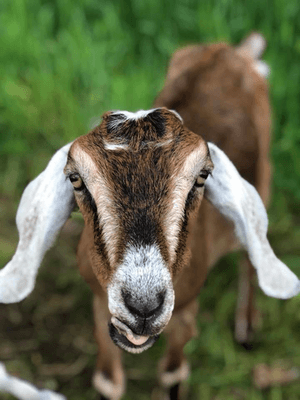 Ophelia
Ophelia and her adopted brothers, Timothy and Alfalfa arrived in January of 2018. A survivor of extreme neglect, Ophelia had lost her mother and litter mate before being rescued and bonded closely with Alfalfa and Timothy. Naturally, they came as a trio and are absolutely inseparable! Despite her horrendous start in life, Ophelia is the most gentle, intuitive, and loving girl who doesn't let a morning pass without making sure she gets her nose kisses!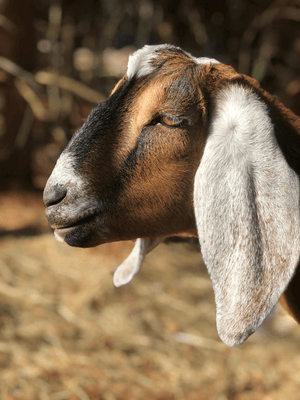 Timothy
Timothy, or big Tim, as we call him is the goat herd leader! Like his adopted sister, he is a survivor having been rescued from the same dire circumstances. Tim was a bit more standoffish when he arrived but now he's the first one leading the charge to greet visitors at the farm. Timothy has a special fondness for children; despite his size, we have found him to be especially careful and kind with the wee ones.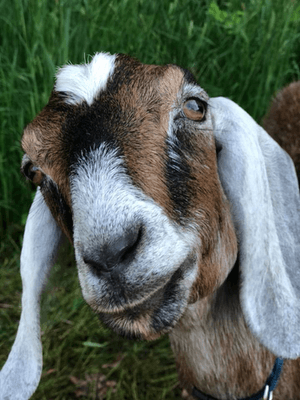 Alfalfa
Alfalfa is Timothy's full brother, and everyones favorite. Something about his soulful doe eyes and inquisitive nature endears him to all. Like Ophelia, Alfalfa and Timothy lost their mother and bonded closely with each other. Alfalfa is our wise old soul deferring to his big brother and looking after his little sister. Alfalfa's favorite time of day is story time; he loves when people sit and read with him.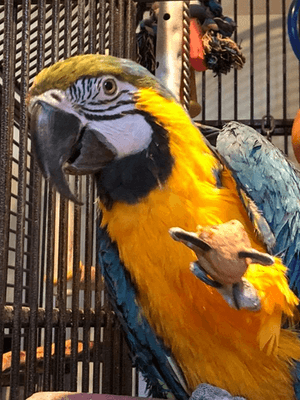 Jesse
Jesse is a 26 year old big, beautiful blue and gold macaw who was living in isolation in her former owner's basement. Labeled an aggressive screamer, Jesse suffered through social deprivation for many years before she was rescued. By the time she arrived at the sanctuary, she more closely resembled a blue and grey macaw as she had plucked out most of her gold. Providing Jesse with the mental stimulation she so desperately craved, as well as companionship, allowed her to blossom into the gregarious, friendly, outgoing girl she is today.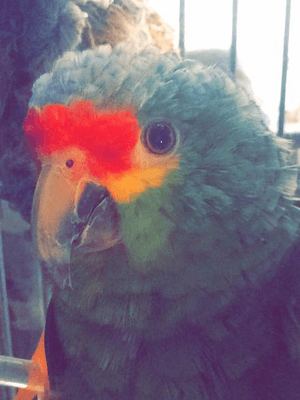 Candi
Candi is a 40 year old Red Lored Amazon that we rescued from a store where she had spent her first years of life in a parakeet size cage. Candi had sores on her feet from the gravel perch on which she had stood for her lifetime and was extremely territorial of her cage having been confined to it all her life while children taunted her through the bars. Candi has come to trust her primary caretakers but carries the memories of those many painful years preferring to interact with visitors only from a distance. She is happy and content and we could not ask for more.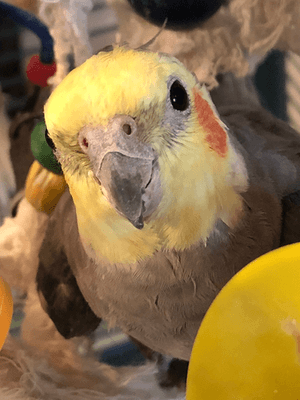 Sam
Sam, at 21 years old, is our longest avian resident of the sanctuary! He has that "been there, done that" kind of attitude that makes him the rock of the flock. He's steady, kind, sweet and funny; always blowing kisses followed up with giggles at just the right time! Sam loves his toys, especially the baby rattle he has had since the day he joined us. Sometimes visitors miss spotting him in his cage because he's busy whispering sweet nothings to his rattle! Sam's favorite food is millet sprays!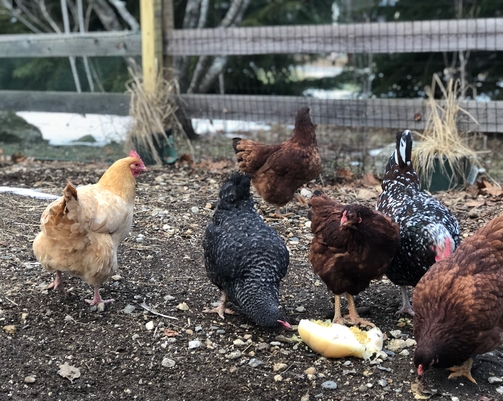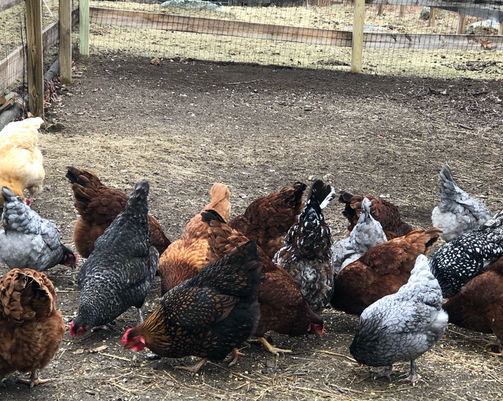 The Ladies
Our lovely flock has come to us from a variety of situations from being found under a bush in the midst of a snow storm to being rescued from an overcrowded office trailer filled feet deep with manure.  Many of our ladies are older gals who are no longer laying but they are enjoying their well deserved retirement here at the sanctuary where they will for their entire natural lifespans.  While their backgrounds are sorted, they all have a special affinity for scratch feed, dust baths and meal worms!
In memory of our residents who recently passed…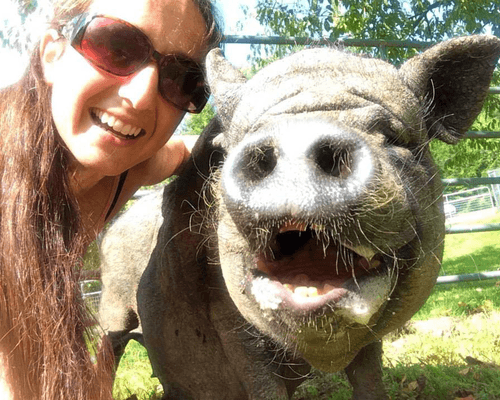 Annie
Annie joined the sanctuary in 2014 at the age of 17 years old! She had lived at a previous rescue for two years prior where she lost over 100lbs and refused to go outside. We took Annie in for hospice care as her health had been rapidly declining. She did very well at the Sanctuary. She liked to spend her days sleeping under her cozy blankets or rooting under her favorite bush. Annie had quite the sweet tooth and loved the donuts (and muffins and crackers and spaghetti and…) that visitors brought for her.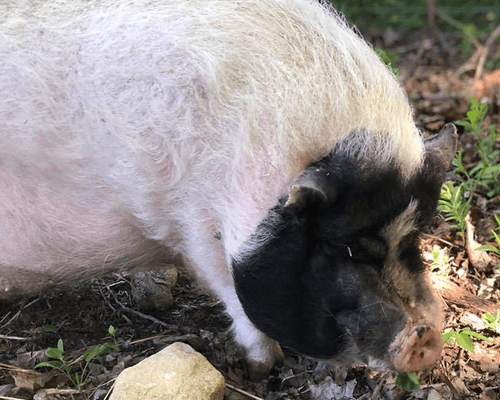 Francis
Francis arrived at the sanctuary a number of years ago after a failed euthanasia attempt. He had bitten a couple of volunteers at the previous shelter. Euthanasia was attempted but apparently Francis had a vision of finding a sanctuary to call home, and he arrived here shortly thereafter! Utilizing operant conditioning (in the form of clicker training) many of Francis's aggressive behaviors had been safely remediated allowing him to be cared for in a humane and gentle manner. Francis loved back rubs, and tearing apart shavings bags!
I WANT TO HELP UNMISTAKEN STARS FARM SANCTUARY